What is QIP Accreditation?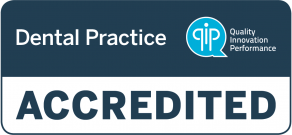 As a result of accreditation, we have incorporated a set of National Safety and Quality Health Service (NSQHS) Standards into our everyday practice culture and patient safety.
These Standards harmonise regulatory requirements of the Federal and State governments. When you visit one of our accredited practices you will benefit from evidence-based systems established to deliver quality and safe services.
What this means for you
There are reduced risks clinically and generally when you visit our accredited practices. Our patients also have the peace of mind in knowing that our staff are educated and trained in the implementation of dental systems and are actively engaged in the improvement of dental processes within the practice.
Australian Commission on Safety and Quality in Health Care adopted the National Safety and Quality Health Service Standards for Dentist's in 2011. The attainment of these standards means a dental practice has proven to be of the highest calibre in delivering quality patient care within Australia.
We now proudly belong to a new age of accredited dental practices, meeting QIP quality standards of patient care for all patients.
If you would like to find out more about the accreditation of our practice please contact us for more information.